Jack Driscoll is one of the members of the crew on Carl Denham's expidition.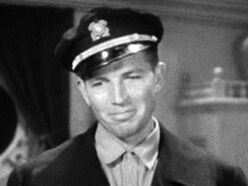 Biography
[
]
Jack Driscoll is one of the sailors on Carl Denham's ship. He is against having women on the ship and he calls them "nuisance" He says these words to Ann Darrow who he eventually falls in love with. Ann is at first surprised by this considering that he dosen't seem to like women on the ship but they eventually both fall in love with each other. Once the ship reaches Skull Island Ann is kidnapped by the natives and they sacrifice Ann to Kong. But Jack, Carl, and other members of the crew go into Skull Island to save Ann. Drsicoll eventually catches up with Kong and rescues Ann while Kong is busy fighting with a dinosaur. Kong chases after Jack and Ann but the crew quickly finds them and throws gas bombs at Kong. Carl and the crew then take Kong to New York.
Once back in New York, Jack and Ann continue to work for Carl while Kong is chained to a live stage for audiences to see. While during the show, Carl gives Jack credit for resucing Ann. It is then discovered that Jack and Ann are to be married. Kong breaks the chains however and goes on a rampage through New York. Jack tries to protect Ann by taking her to a room and fighting Kong. But Kong reaches through the window and once again, kidnapps Ann. Kong takes Ann to the top of the Empire State Building where Kong is shot down. Jack then rushes to the top and is reunited with Ann.